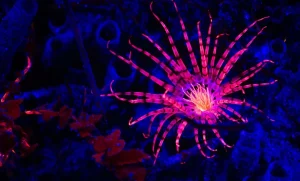 Rise your night diving experience to a completely different level.
Enter into the magical world of "Fluorescent Light Diving".
From May 7 thru May 12, Lynn Miner, founder of Fire Dive Gear will be available for questions and giving a class at Goby Divers on May 9 and 10 from 17:00 till 22:00.
Price: US$ 175:00, includes theory sessions, 2 night dives, "blue" lights and filters.
Schedule May 9
17:30 – 18:30 Seminar about fluorescent light diving
18:30 – 19:00 Setup of equipment & prepare for the dive
19:00 – 20:30 Fluorescent Light Dive
21:00 – 22:00 De-briefing, questions and answers
May 10
17:30 – 18:30 In-depthy information and photography and filming
18:30 – 19:00 Setup of equipment & prepare for the dive
19:00 – 20:30 Fluorescent Light Dive
21:00 – 22:00 De-briefing, questions and answers